Click here to go to
Play format
Harry Lockwood was one of the orginal players when the league started in 1922, and until having a cataract operation was always one of the highest handicapped players at around minus 250 points. After a couple years of playing at minus 80 to minus 100, his eyesight improved and in his last game, he won by more then 100 points even though giving his opponent 125 points to start. Quite a feat for a man almost 83 years of age. He collapsed and died minutes later at the table at Fort Rouge Legion in Winnipeg, Manitoba, Canada in December of 1970.
Secretary treasurer Tom Hargreaves, a personal friend of Harry and his wife Elsie, persuaded her to donate a trophy in Harry's memory.
This Trophy is restricted to the top 16 handicapped players in the league with all players starting from scratch(no handicaps).
2012-2013 Lockwood Trophy Winner Rick Kendall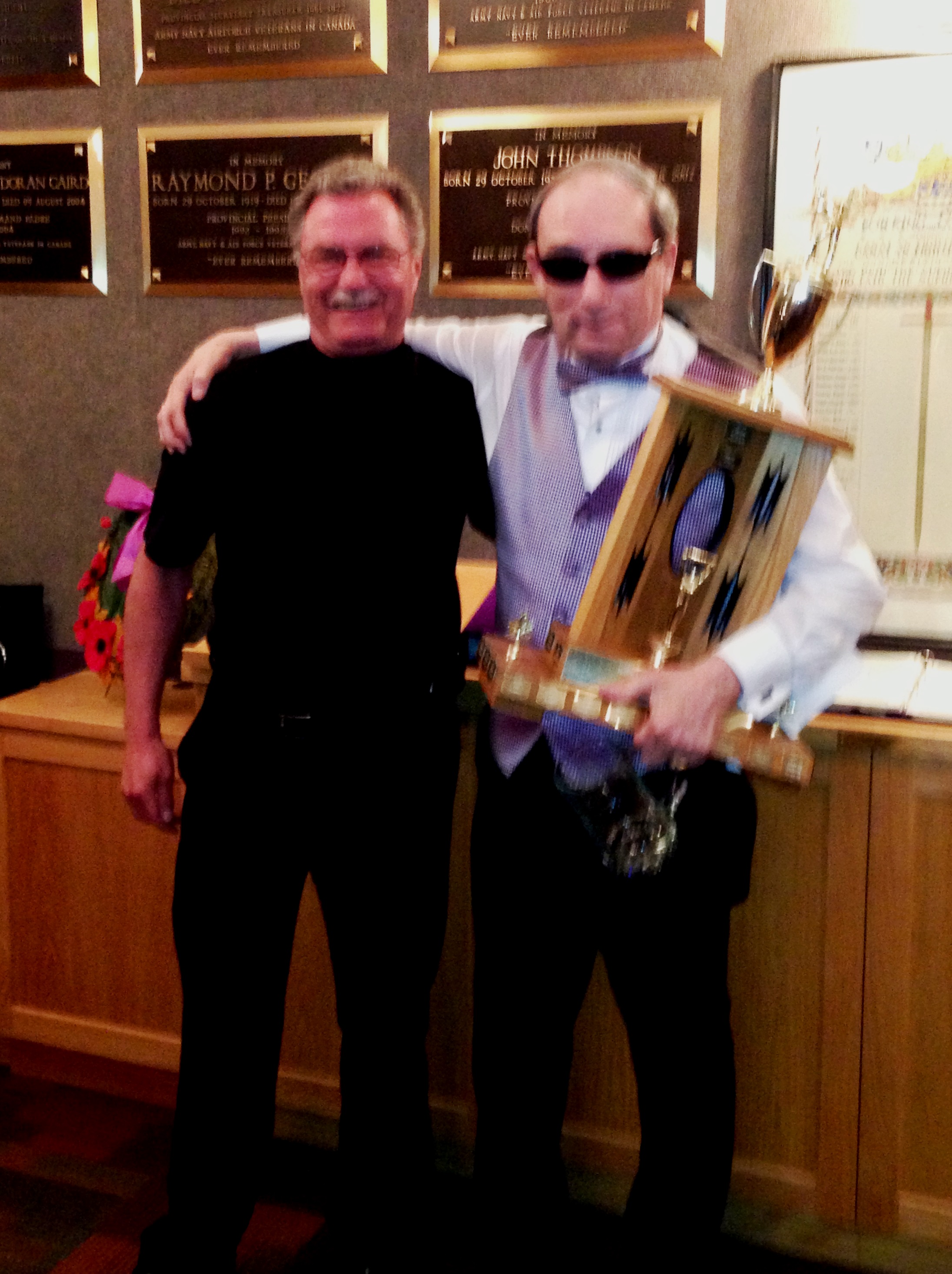 PREVIOUS CHAMPIONS OF THE LOCKWOOD TROPHY
SEASON
CHAMPION
LEAGUE TEAM
2011-2012
Fraser Durham
Norwood 1
2010-2011
Greg Harder
Rockwood 2
2009-2010
Fraser Durham
Norwood 1
2008-2009
Rick Kendall
St. James 1
2007-2008
Fraser Durham
Norwood
2006-2007
Fraser Durham
Norwood
2005-2006
Fraser Durham
Norwood
2004-2005
Fraser Durham
Norwood
2003-2004
Fraser Durham
Norwood
2002-2003
Shane Bartelette
Norwood #1
2001-2002
Fraser Durham
Imperial Vets
2000-2001
Fraser Durham
Imperial Vets
1999-2000
Rick Kendall
St James #2
1998-1999
Fraser Durham
Imperial Vets
1997-1998
Shane Bartelette
Norwood
1996-1997
Fraser Durham
Imperial Vets
1995-1996
Shane Bartelette
Norwood
1994-1995
Shane Bartelette
Norwood
1993-1994
Pat Werner
Rockwood
1992-1993
Pat Werner
Rockwood
1991-1992
Jack Ramsay
Norwood
1990-1991
Rick Kendall
St James #2
1989-1990
Ross Metcalfe
St James #2
1988-1989
Ross Metcalfe
St James #2
1987-1988
Pat Werner
Rockwood
1986-1987
Ross Metcalfe
St James #2
1985-1986
Ross Metcalfe
St James #2
1984-1985
Ross Metcalfe
St James #2
1983-1984
Owen McIntyre
Assinaboia
1982-1983
Rick Kendall
St James #2
1981-1982
Owen McIntyre
Assinaboia
1980-1981
Pat Werner
Rockwood
1979-1980
Owen McIntyre
Assinaboia
1978-1979
Owen McIntyre
Assinaboia
1977-1978
Jim Simm
St James #2
1976-1977
Ray Reid
St James #2
1975-1976
Jim Simm
St James #2
1974-1975
Syd Spence
Assinaboia
1973-1974
Owen McIntyre
Assinaboia
1972-1973
Owen McIntyre
Assinaboia
1971-1972
Harry Robins
St James #2
1970-1971
Harry Robins
St James #2